Nursery Tweets
We like to keep parents up to date with our classroom antics. Here are some of our recent ones:
Merry Christmas!
We had such a lovely time in the build up to Christmas this year. The children explored a range of activities ... and the parents joined in too!
Autumn Language Activity
The first week after the October half term holidays was a fun hive of Halloween and Autumn activities. As part of our language development work we ran an Autumn Tray activity.
The children were asked three specific language questions and their answers recorded on their Early Essence Learning Journal:
Question 1: What can you see?
Question 2: Where did they come from?
Question 3: Why are the leaves not on the trees anymore?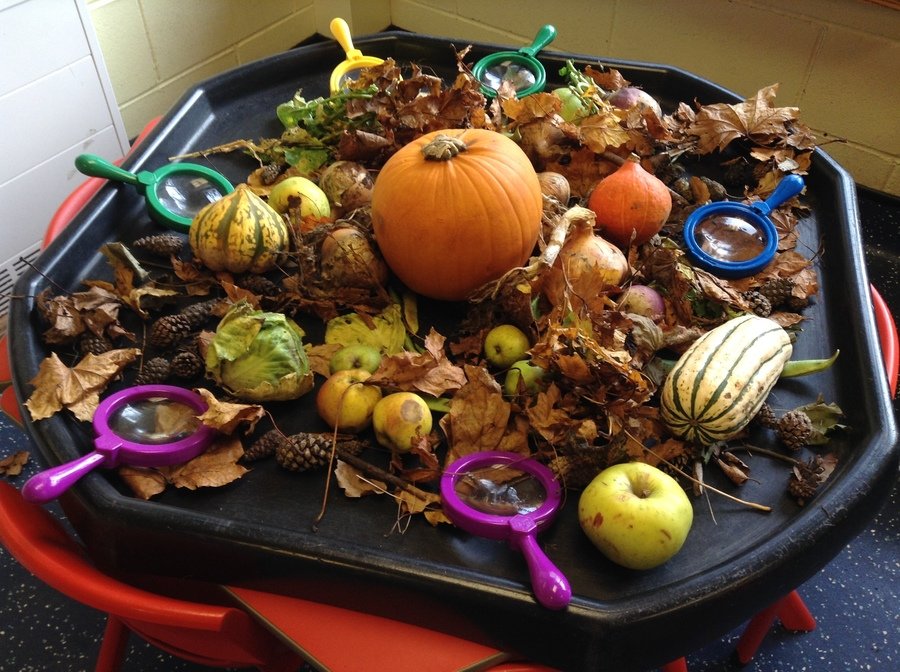 Happy Halloween!
The staff and children all had a fantastic time at our Halloween Fancy Dress Party. The children really enjoyed dressing up and working to the sound of spooky music. We had lots of scary monsters, witches and zombies in the classroom for the day. Can you work out who is who?
Forest Fridays!
The Nursery children have been spending every Friday in our Forest. We have been so proud of how well the children have responded to the challenges of the outdoors - the change in weather, the size of the space and the trust we have placed in them as they explore independently.
On their first visit to the forest, the children explored within the safety of a familiar adult. The staff had to show the children how to move branches carefully so they could get past, or to pick themselves off the ground if they had fallen over their wellies.
Now, only a few weeks later, the children explore with confidence - they notice the environment around them and explore with awe. We have children who will persevere as they climb up bankings, showing resilience as they try again if they didn't succeed the first time. They travel under branches, over tree roots and through small spaces between bushes.
The Nursery children have formed strong relationships with the older Reception children that join us and the younger Short Circuit children that have started to come along to the forest with us too. We love being in the forest!
We have so much fun at the forest that parents comment that their children ask "is it Forest Friday yet?"
Nursery's Reading Launch Event
Thank you to everyone who made our #10: Sharing Stories event so successful. We hoped you enjoyed your Bookstart Reading Packs, Library Books and introduction to 50 Things to Do Before You're 5 poster and app.
Fostering a love of books at an early age has significant impact on children's learning and development in a range of ways. Listening to stories being read or spoken aloud in the first 3 years of a child's life is critical to language development. We hope we sent you away with resources and ideas for you to enhance the early reading skills of your child during your time with us at Nursery.
We are always very busy at Nursery!