What We've Been Up To
Topic
Our topic in Half Term Two is Fire! Fire! We started the unit by learning all about the Gun Powder Plot. The children created their own timelines, bonfire art, and were even able to use their knowledge of events to compose questions which they then asked 'Guy Fawkes' during a Hot Seating activity.
We then moved on to learning about another significant event in Great Britain, the Great Fire of London. We started the unit by reading the book 'City of Fire' in our Guided Reading sessions. This really captured the children's imaginations and gave them the thirst to learn more!
Numeracy
This Half Term the children have very much enjoyed our Money unit. They have been working on recognising the value of different coins, adding coins and notes together to find a total value. They have been able to use and build upon existing mathematical skills such as addition and subtraction, and using part-whole models to find the answer to questions. Everyone agreed that their favourite money activity was using the Argos catalogue to find toys that added up to a given amount!
Literacy
In Literacy lessons at the start of Half Term Two the children were introduced to the Winnie the Witch stories. Through this they explored the concept of camouflage, creating their own camouflaged animals. This unit also provided many opportunities for the children to include adjectives in their independent story writing.
We then moved on to writing for a different purpose and focussed on instructional writing. The children understood the importance of following instructions in the correct order when they were given written instructions to make their own Christmas tree decoration.
Through the book, "How to wash a Woolly Mammoth" the children have learned more about how verbs and adverbs should be used when writing instructions.
R.E.
In R.E. this Half Term we have been thinking about making 'good choices', and about the consequences of our actions. This has led to some very thoughtful and mature class discussions. The children enjoyed making a 'Good Choices paper chains, which are displayed in the Year Two classrooms to remind everyone of their excellent suggestions.
PSHE
We have been thinking about how to keep ourselves happy and healthy in PSHE lessons.
Year Two saw how easily germs can be passed around. We put glitter on a child's hand to represent germs. We saw how quickly it could be passed from child to child. We discovered that soap and water removed the glitter completely.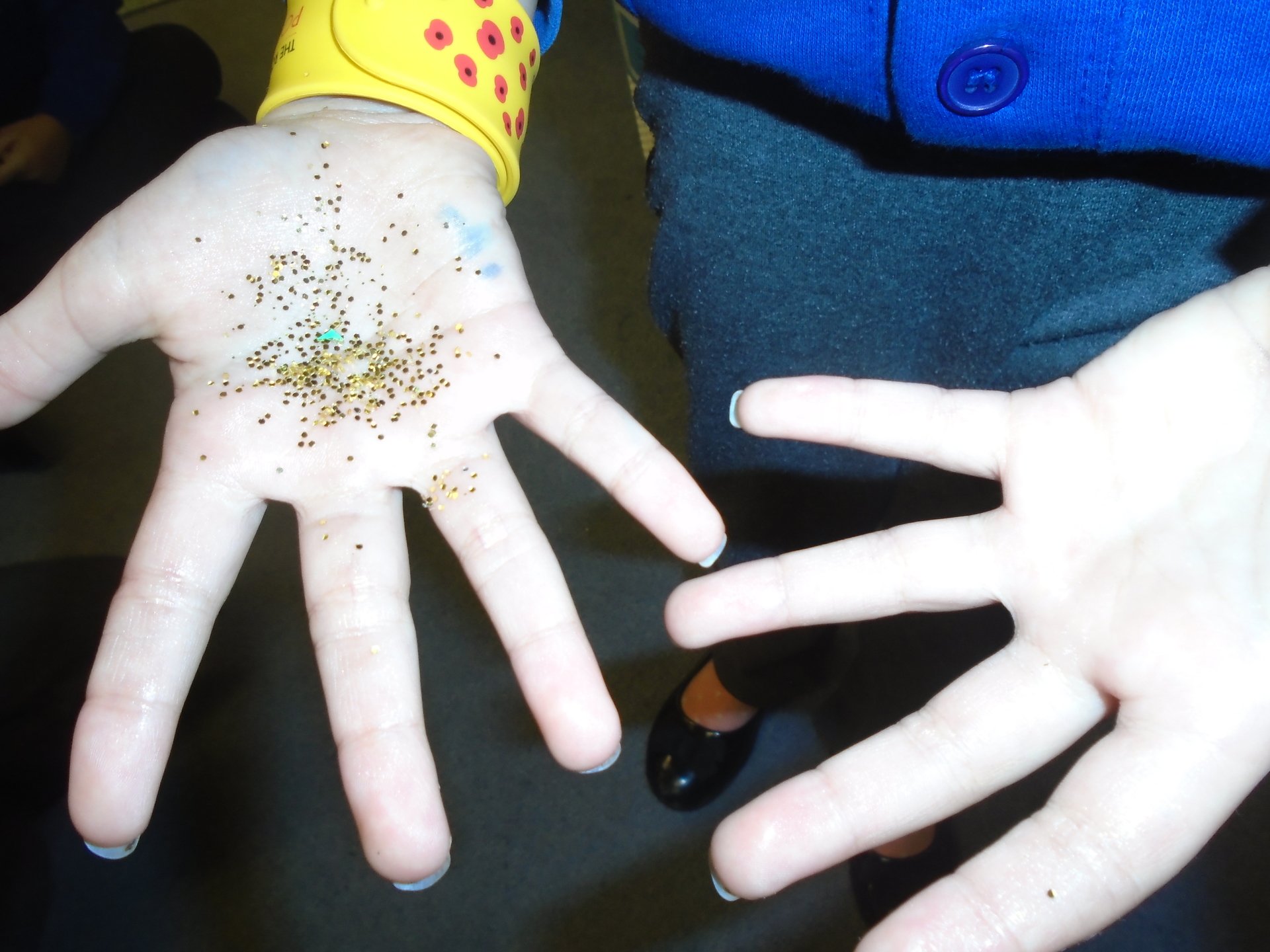 Science
In Science that children are looking at materials. They have discussed the properties of different materials and their purposes. They have also used Playdough and other items to investigate how they can change the shape of a material by squashing, twisting, stretching, and folding etc.